Carol Ann Curran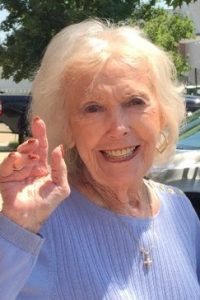 In lieu of flowers, we invite you to donate to the following projects in memory of Mrs. Carol Curran ( Executive Vice President and Chief Operating Officer, Pamela Curran's Mother): the YMCA of Metropolitan Washington's Acts of Kindness Fund.
You may still send flowers in addition to your donation, but if you prefer to send only one expression of sympathy, the family hopes you would choose to make a charitable contribution to the following YMCA Fund:
YMCA of Metropolitan Washington
Acts of Kindness Fund
1112 16th Street, NW, Suite 240
Washington, DC 20036
202-232-6700
Carol Ann Curran, a longtime resident of Williamsburg Va., passed away on Thursday, October 17, 2019. She was at her home surrounded by family and loved ones. Carol was a parishioner of St Bede Catholic Church.
Carol was born June 8, 1930 in Yonkers, New York to John Patrick and Francis Veronica (Treacy) Drohan. She was one of seven children, with six brothers she adored throughout her life. She was educated at Sacred Heart Grammar School and Gorton High School. Carol worked for Manhattan College, the New York Central System and Prince William County Schools.
She married Joseph Francis Curran of Yonkers, New York on June 11, 1955, to whom she was married for 55 years until his death in 2010. She was a loving and devoted mother to seven children: Pamela Curran of Bethesda, M.d., Joseph Curran (Julie) of Winchester, Va., Jack Curran (Jayne) of Brambleton, Va., David Curran (Cathy Jean) of Wellington, Fl., Catherine Bryant (William) of Durham, NC and Frances Curran of Durham, NC. She was predeceased by her daughter Carol Ann Myers in 2009. Carol was a loving grandmother to twenty grandchildren and fifteen great-grandchildren. Carol is also survived by her brother David Drohan (Denise) of Barrington Illinois and dear friend Dr. Walter Lambert of Williamsburg, Va.
Highly admired by all, Carol loved her family and home. She was an avid golfer who also enjoyed reading and fashion.
Carol was a member of the Montclair and Ford's Colony Ladies Golf Association as well as a member of the 2000 Member's Hole in One Club at Ford's Colony.
The family will receive friends on Thursday, October 24, from 2pm-3pm at St. Bede Catholic Church. A Mass of Christian Burial will follow at 3pm, with interment at St. Bede Columbarium.
In honor of her Ford's Colony LGA18 membership, memorial donations can be made to FISH, Inc. of Williamsburg at Williamsburgfish.weebly.com or the YMCA of Metropolitan Washington at www.ymcadc.org. Condolences may be offered to the family at www.bucktroutfuneralhome.net.
Donate in Memory of Carol Ann Curran